She's the legendary comedian, actress, jewelry mogul, and "Fashion Police" spotter. Of course, we could only be talking about Joan Rivers!
She's packed in all her jokes and put-downs into a blunt, uninhibited, totally uncensored book "I Hate Everyone...Starting With Me." Zoraida Sambolin recently sat down with her to to hear her really dish it out and also tell how she learned to take it.
Rivers talks about almost every topic under the sun, and gives her take on:
The Presidential race and candidates President Obama and Mitt Romney
"Both idiots...how dare you spend 2 years campaigning. This country is in trouble. They should do what England does – six weeks to find out what everyone thinks before they vote for them for Parliament...I find the whole thing disgusting."
On fashion and doing the red carpet
"The red carpet, when Melissa and I started doing it, you could say things...now everything is so closed. If you say something about Meryl Streep, her PR person won't let you have Tom Cruise...E! said please go back and do the carpet. Melissa and I said no, we'd much rather go back and do the next day and tell the truth."
On criticism she goes too far with her jokes
"I go sometimes too far on stage, but I'm at the age now where I really think my audience is my friends. I know it sounds stupid. I come on stage, and there are, like, 4,000 friends there...I think you must laugh at everything. Life is so terribly sad."
What she hates about herself
"Where do we start? My god, the breasts and you notice where I'm looking. The breasts, the thighs, the accent. Listen to myself on tape - you know, - everything."
On plastic surgery
"I did a little tweaks all my life. And that's the way people should do plastic surgery. You should do it that people don't really notice. They just say, doesn't she look good. I love when they say, she's rested. Yes, she fell asleep on the operating table."
On her opinion on less-than-beautiful people
"I hate ugly people. If you are ugly and you know who you are, I could start right now pointing out. Just get up and get out, because trust me, at the end of the evening, you're going to be just as ugly at least be home."
See more from Zoraida's sit down with Joan Rivers below. And don't miss our web extra, where she talks about the intelligence of pigeons in New York City.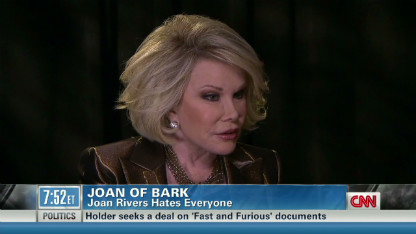 Joan Rivers: Romney, Obama 'both idiots'
Comedian Joan Rivers, author of "I Hate Everyone...Starting With Me," shares her blunt opinion of the presidential race.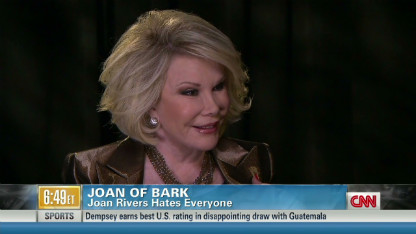 Joan Rivers on staying relevant
Comedian Joan Rivers, author of "I Hate Everyone...Starting With Me" talks about staying relevant in modern culture.